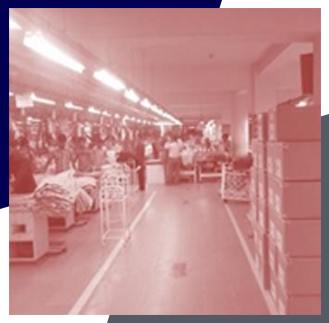 About Us
Avolina is the Title name of a Group of Export oriented RMG companies with sustained goodwill. We have highly disciplined and qualified setup that is specialized in manufacturing & sourcing of all types of Knit & woven items for Men, Women & Children's of all ages. Our service touches in all aspects of Textile & Fashion wear. Our Total business turnover in US dollar aprox 5.00 million per year .We mostly exports apparel in E.U & USA markets. Avolina employs qualified management team, proficient team of Merchandisers, Production Planners, qualified quality Inspectors, Commercial experts, HRD & social Compliance team, Finance officials, IT specialists etc.
Our Mission

The mission of Avolina is caring customer's satisfaction on top of anything. Avolina is dedicated to serve perfectly as customer thinking & requirements. We always ensure customer expectations by incessant quality improvement and everlasting assurance as regards environmental and social issues. Avolina also wish to provide its great services to apparel customer who wishes to jointly work & treat us as his local representative office.
What we do
We analyze stylish deigns as latest fashion trend.
We ensure quality products manufacturing. Strong in-house quality assurance team to ensure customer AQL
Our marketing experts ready to provide feedback customer queries within justified time by 24 hours.
Provide goods Inspection facility for In-line & final as customer need
Our Concern Companies
Avolina Tex ltd
Ben fashion wear
Hazi fabrics ltd
Mood Trading
RB Fast sourcing
Quality
Avolina is committed to afford quality at the highest level & never compromises with quality .It have earned immense reputation as a maker of quality products. Our own quality team work with each process & strict on quality control measures. Where each product has to go through a series of thorough scrutiny .It tries to make products that not only meet buyers required criteria but also gives customers total satisfaction about its quality management system.

For us value is "combination of Brand, Fashion, Price and Quality"
Compliances
We partner factories maintain health, safety, & corporate responsibility issues. We strictly follow customer code of conduct as well as social compliances issues.
Our Responsibility
To our clients who let us keep on moving...

We ensure right price, right quality and on time delivery.
We believe in building long term valued business partnership.

To those who work with us...

We recruit and retain right people in right position.
They must be educated, experienced, capable and ethical.
We treat them with dignity and fairness.

To our supplier...

Building partnership through mutual trust and respect.
We Work together in delivering common goals.

To our Shareholders...

Business must make sound profit with reasonable growth in every year.

To the community and the country we are doing business...

We contribute for the community through creating new work order and generating more Foreign currencies through export